Plan the ultimate Christmas party
The office Christmas party is the perfect way to boost morale and thank your hard-working team for their valuable contribution throughout the year. What better way to return the favour, than with an amazing Christmas party (and a few complimentary drinks!) 
Although it may seem like a huge dilemma to find an event or activity that everyone will like, with the help of Arcade Direct it could be much easier than you may have imagined. 
Engage your staff in an innovative team building event
While some regard the typical office Christmas party as a chance for you all to let your hair down, it's also a unique opportunity for some team building and offers you the chance to engage with your staff in a totally relaxed way. If you can create a relaxed and social atmosphere, your employees will build a fantastic rapport with each other outside of work, whilst creating long term benefits for your business too. 
A party people will remember
A great Christmas party can also boost the profile of your business and raise your brand awareness too! If your team are really enjoying themselves and having a great time, they are more likely to showcase this on their personal social media channels such as Facebook and Instagram, so everyone can see it really is a great place to work! 
Whether you've decided to hire a special venue or use your existing office space, Arcade Direct can help to add some spark to your Christmas party and here's how;
Hire a Photo Pod!
Whether it's a small office affair or a corporate-wide event, a photo booth will add a real fun factor to your Christmas party! As well as engaging your team, they will also get to keep great photo memories. Stick some on the office notice board when you get back in the new year!
Make sure you take advantage of branding your own photo booth too as when hiring a from us, you'll be able to promote your company on the photos and also through social media sharing. 
A photo booth has the ability to really bring people together and before you know it, different teams will be chatting together, picking up props and striking a pose! This is an easy way to break the ice if you're keen for your employees to get to know each other better.
Include some retro Arcade Machines
Hiring classic and retro arcade machines is also a great way to make your office Christmas party really stand out from the crowd. Whether you are looking for a one-off hire for a few hours or a few days, Arcade Machines can create great interaction and healthy competition between you and your colleagues. 
Here at Arcade Direct, there are a variety of gaming solutions on offer. Dependent on the space and budget you have available, you can recreate a classic arcade with retro arcade machines such as Pac Man, Space Invaders, Street Fighter and the popular pinball machine. 
Our Arcade Machine hire comes complete with delivery, set-up and collection and we will ensure that your staff can be shown how to use the machines by our trained technicians. Whether your event is local to us in the North West or a nationwide Roadshow, you can be confident that we will provide a great quality service at a great price!
What type of arcade machine are you looking for?
From Retro and Dance arcade machines to Star Wars, Pinball Machines and Shooting arcade machine hire, there are short term hire and long term hire options available to suit your Christmas party needs.

Custom Arcade Machines
Here at Arcade Direct we offer amazing customised arcade machines so your special event will really stand out from the rest. To give you some inspiration, here's an example of some of the machines we have worked on in the past; 

SnapChat
One of our agency partners came to us with a brief to provide something totally different for a SnapChat roadshow, that will tour around various London locations. For this we provided two custom grabber cranes, which were fully branded and filled with cuddly SnapChat ghosts, as prizes. Two custom boxing machines that were fully branded with SnapChat cladding and oversized yellow buttons were also added to test strength! 
Born & Raised
A custom boxing machine for their promotional event. Wrapped in their logo and imagery it really brought the brand to life.
What other interactive attractions are available?

Popcorn Machine & Grabber Crane
One of the biggest priorities at a Christmas party is ensuring the guests have enough to eat and drink. Adding a Popcorn Machine to the venue is the perfect pick-me-up for your guests if they are feeling peckish and in need of a sweet treat! 
A popcorn machine will not only be an attractive feature to have in the room but will also provide the guests with a snack later on in the evening when the drinks are flowing! 
Our unique British telephone box grabber crane is also available to hire!
Event Hire Packages
With our event arcade machine hire packages, there's something for everyone! Creating a talking point for all your guests or an interesting attraction is key to everyone having a great time and will definitely bring everyone together. 
Here are the different types of Party Packages we have on offer: 
For all the petrol heads out there, the Race Ahead Party Package will create the perfect form of entertainment for all ages and features a Sega Rally Arcade Machine and Nascar Pinball Table. Ask your colleagues to get into teams so they can race against each other and enjoy some team building! 
If you are looking for the top retro arcade machines for your Christmas party, the Pixels Party Package can take over with arcade machines such as the original Pac Man, Space Invaders, Galaxian, Defender and Asteroids. 
For a limited time only, you can enjoy a fabulous party package including our most popular arcade machines including the Sega Rally arcade machine, Point Blank arcade machine and Voyager Deluxe arcade machine. 
With access to one of Europe's largest collection of Star Wars arcade machines and merchandise, here at Arcade Direct we can deliver the best Star Wars arcade machines to suit your Christmas party needs! From the Star Wars X-Wing Cockpit to the Trilogy Upright and Trilogy Pinball, we can tailor a package to you and your employees. 
If your colleagues need to relieve their stress at the end of the year, why not test their strength and agility with our Ultimate Fighter Party Package. Within this package you will receive a Boxing Machine, House of the Dead machine and an Astral Fighter machine so the fun will be endless! You could keep track of the scores and offer fun prizes to the winners who pack the best punch! 
Hire some VIP props
Every party needs a bit of class, and what better way to add spark, and make your guests feel special than some VIP props. We hire the VIP entrance posts in red or blue and also have a huge range of furniture that you can hire for your venue. From champagne tables to flashing cube seating, we can provide it all.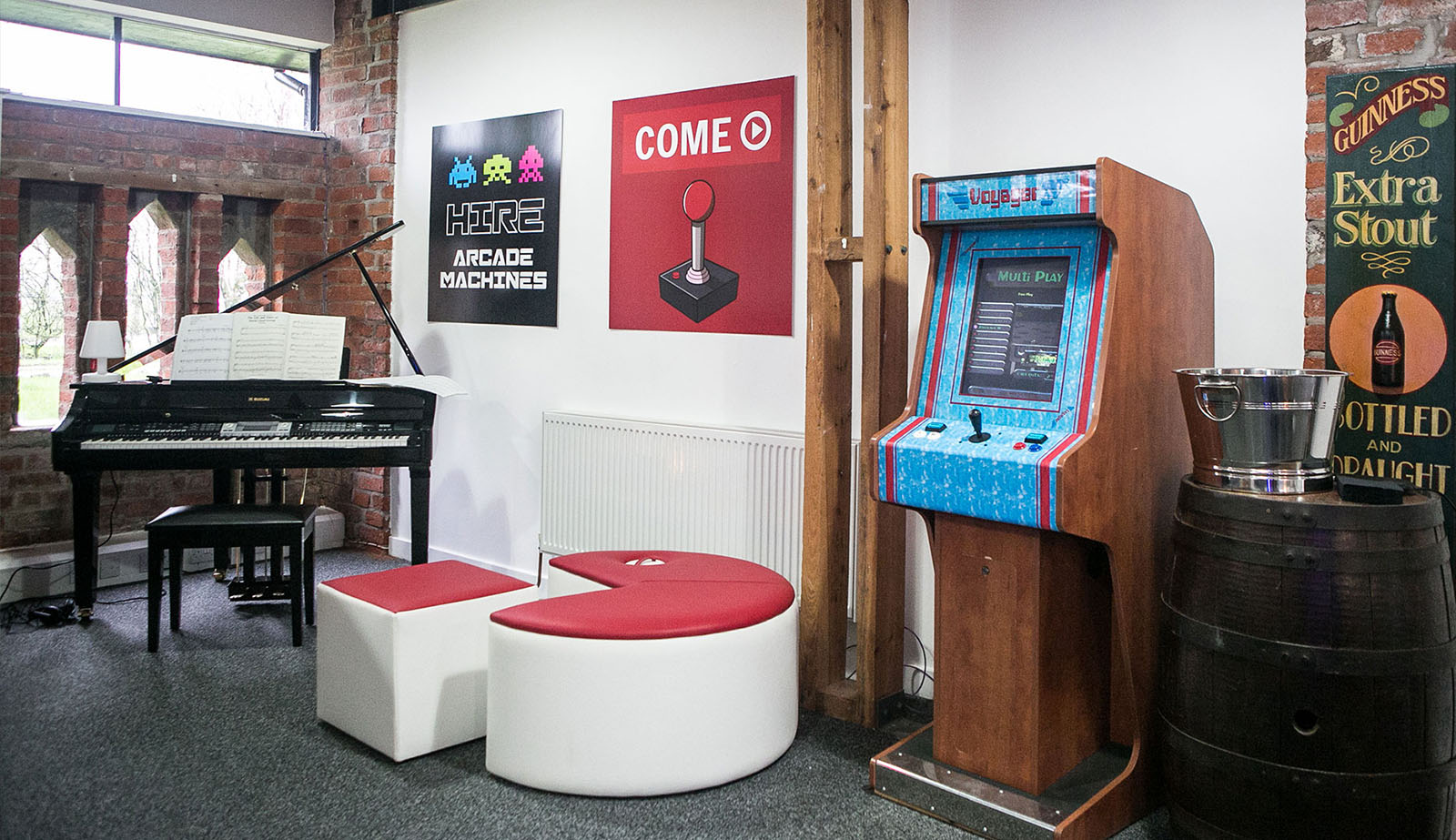 Working a creative themed event 
If you haven't got the time and energy to organise your Christmas party for this year and you are finding it to be a stressful experience, why not consider working with a bespoke event management company? 
From large corporate Christmas parties to more intimate Christmas gatherings, P4 Events can help to ensure your Christmas party runs smoothly and is a great success! With an extensive list of suppliers, venues, props and themes, you can be sure your next event will have that amazing wow factor! 
Working with specialists in event management will save you so much energy and time whilst they will guide you through the planning and preparation stress-free. 
Inventive Christmas party themes!
From recreating a Christmas grotto or winter wonderland to organising a live band, finding suitable catering and much more, our partner company P4 Events are super professional and through our network of suppliers, we can create a winning theme to suit your business. 
Coming up with inventive and innovative ideas and event themes is a regular part of our work here. We can work your event around almost any theme or promotional campaign. And don't worry we want your event to be as unique as you are so we will tailor everything to meet your specific needs and tastes. 
Any kind of corporate event needs to go well otherwise it could have a negative impact on the attendees perception of your business so one guaranteed way to make your business event a hit is to provide good entertainment for the guests. 
If they aren't managed correctly, Christmas parties can feel a little forced so it's essential that the activities and arcade games reflect the fun nature of the business. By having arcade machines situated around the room or in a particular area, you can turn your Christmas party into a very social event! 
When looking for arcade machines here are a few things to consider; 
Make sure the game is relevant and your colleagues will enjoy every second 

Take advantage of multi-player machines for some fun competition 

Make sure you have space so the arcade machines don't look overcrowded 

Know your audience and think about hiring arcade machines that everyone will want to have a go on. For instance, not everyone may feel comfortable using a dance machine in front of their colleagues! 
We hope this has given you a real insight into the possibilities available when hiring an arcade machine for your Christmas Party. Our selection of game machines provides a competitive slice of nostalgia as well as plenty of entertainment value! If you don't see your favourite arcade games on our website or you have some ideas for a custom branded machine, get in touch with Arcade Direct today and we would be happy to bring your ideas to life! 
Based in Preston, Arcade Direct are one of the UK's leading arcade machine hire firms, offering a variety of classic gaming and retro arcade machines for hire in the UK and throughout Europe, to domestic, commercial and corporate clients.
Get in touch
Fill in your details below to enquire and we will be in touch to discuss your requirements.