Games have existed for a really long time.The first true video games surfaced in the 1950's and the first arcade game, Pong, was created in the early 1970's. Now we have a multitude of consoles and games that are compatible with computers, PlayStation 4's and Xbox's. Nintendo released their first gaming console in 1977 – the Color-TV Game – and now have 14 more under their belt, with the most recent being the Nintendo Switch.
With the ever-evolving technology came a growing customer base. Now gamer's everywhere celebrate all games – old and new. If you want to feel that oh-so-familiar atmosphere that you felt in the retro arcades, or the buzz you get when you play against your friends at home, a game expo has to be the next event on your bucket list. From competitions to meet and greets, game expos have everything a gamer could dream of – but which one should you go to? These are the best gaming expos in the UK.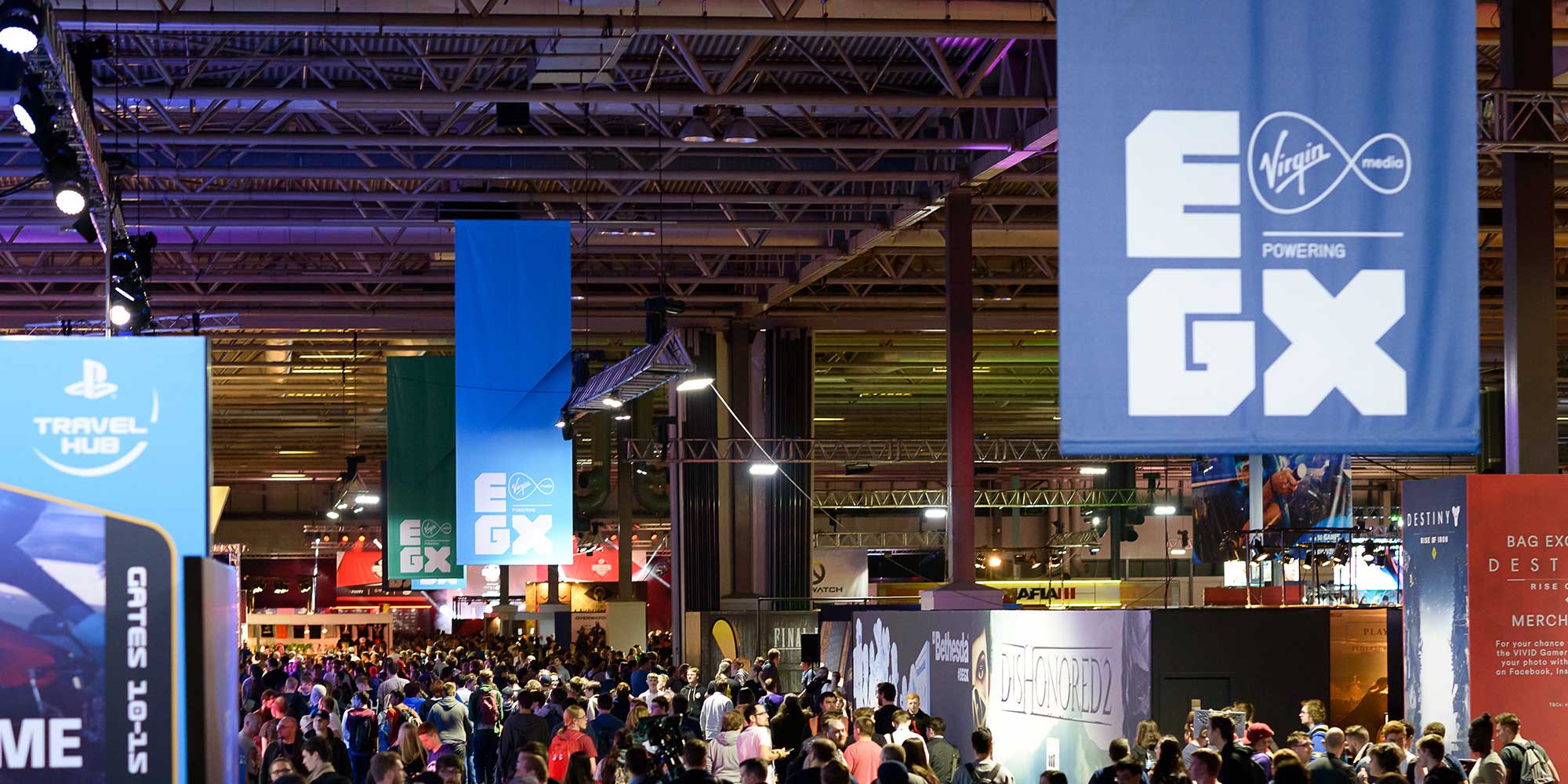 When is it? Birmingham 4th-6th March & London 22-25 September.
Where is it? London & Birmingham NEC
Price: £15 – £75
Hosted by: Virgin Media
Buy tickets: www.egx.net/egx/ticket-information
EGX is the UKs biggest gaming event – a celebration of all things gaming. The first in-person event since 2019 due to the pandemic.
Attendees are invited to play some major unreleased blockbuster games and 100's of incredible indie games – there'll be over 250 games to play during the event. Watch or compete in the two fun tournaments on each day.
With an eclectic mix of shows and activities, such as the Leftfield Collection (an area full of different, weird and wonderful independent games), the EGX Arena for group battles and the Retro Zone which is filled to the brim with the games of arcade's past: think Pinball, PacMan and the original PlayStation.
What's on at EGX?
Play a magnitude of games
There'll be a huge mix of old school, indie and unreleased games at EGX that you'll be able to experience first-hand! The game area is the biggest and most popular attraction at this expo – there'll be rows and rows of different gaming stations and you'll be playing undiscovered games from huge companies and indie developers. The Retro Zone will be full of old arcade classics[3] so head there to fill your boots with gaming's rich history.
The Rezzed Zone
Here you won't just be playing indie games, you'll also be meeting the brains behind the screens. You'll be able to play these homegrown games and learn them inside and out by discuss everything with their developers.
The Leftfield Collection
This room hosts an array of wacky games, from unique art styles to just about mental story lines. This room is an EGX staple and a crowd favourite!
EGX Arena and Fight Zone
Fancy a battle? Take your friends down to the EGX arena and go face to face with some of the best gamers – alone or with a team. If you want to prove your skills, this is the place to be. Not competitive? You can watch some huge e-sports matches instead. The Fight Zone will feature the European Final of the Capcom Pro Tour and their Streetfighter tournament!
Meet and Greet
You'll be able to meet some of your favourite influencer's and content creators from the gaming sphere!
Cosplay Zone
EGX's cosplay scene is ever growing. With a huge stage to host it over the full 4 days, cosplayers everywhere can unite, take pictures and maybe even win prizes!
Network
EGX will have a careers bar and fair where you can seek advice and information on any potential gaming careers. You'll also have the chance to get one-to-one advice from leading figures in the industry with EGX's portfolio reviews!
EGX is the perfect place to meet new people, make connections and have some fun whilst discovering new games. You might find a new love for indie games or arcade games – hell, you might even buy one for your home!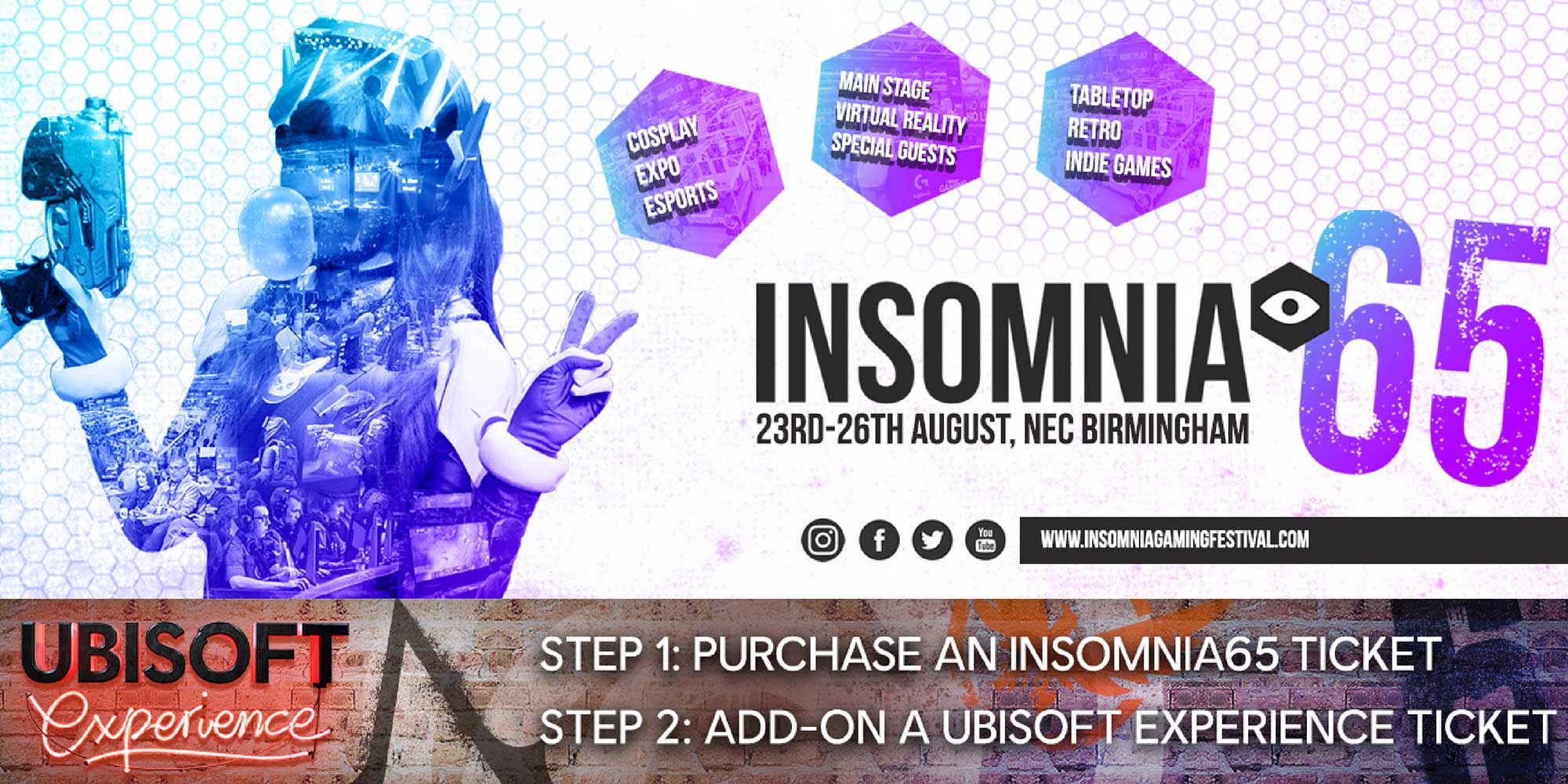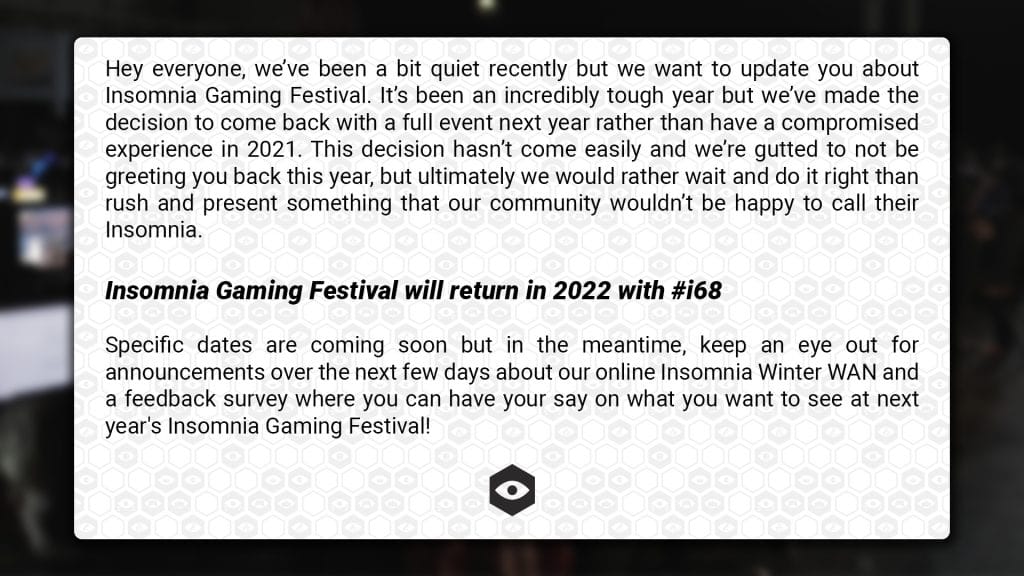 When is it? Dates to be announced!
Where is it? TBC
Price: TBC
Hosted by: Player 1 Events
Buy tickets: TBC
Insomnia 65 is a gaming festival set up by Player 1 Events in partner with GAME and Belong Gaming Arenas. This festival, hosted in Birmingham, will be filled to the brim with playable games, networking opportunities, meet and greets and more. This festival is getting bigger every year with this year being their biggest yet! There'll be a Tabletop zone for some next-level game play and a great space to show off your finest cosplay.
What's on at Insomnia65?
Shop
Insomnia65 specialise in Anime and Manga, so it's no surprise that their anime-specific merch shop, Toybox, is a main focus at the expo. Customer service is at their heart and they have something for everybody. Head to the Overclockers stand – home of the PC gaming enthusiast – to check out their hardware, PCs and more! You can also try some samples and purchase some of Sneak's new goodies – switch your coffee for a sneak and never get tired whilst playing again!
Experience A New Reality
Sponsored by Vive, the Virtual Reality zone will be the place to be for anyone who wants to experience a new way of playing. Fully immerse yourself in the story line and get completely sucked in by one of their many VR games.
Sit Back and Watch
With the many stages at Inomnia65, you'll find it easy to take a break from the hustle and bustle. Spectate the Super Mario Maker 2 Showdown or the Just Dance Lip Sync Battle or get involved in The Hot Seat – a gameshow where audience members help a special guest with answering quickfire questions!
Compete
Head to the Battle Royal Zone to take part in a huge fortnight battle! Battle Royal isn't your forte? Get competitive in the Daily Tournament Zone where you can go head to head in Rocket League, Overwatch and more!
Play
Play some of your favourite Indie games or visit the Retro zone for some arcade madness. Even better – Bring Your Own Computer to the B.Y.O.C Zone and take part in the biggest LAN party.
Meet and Greet
Connect with some of your favourite gaming influencer's such as Pyrocynical, Willne and many more.
Insomia65 is a great alternative to EGX, both have the crowd, atmosphere and big names to draw in customers.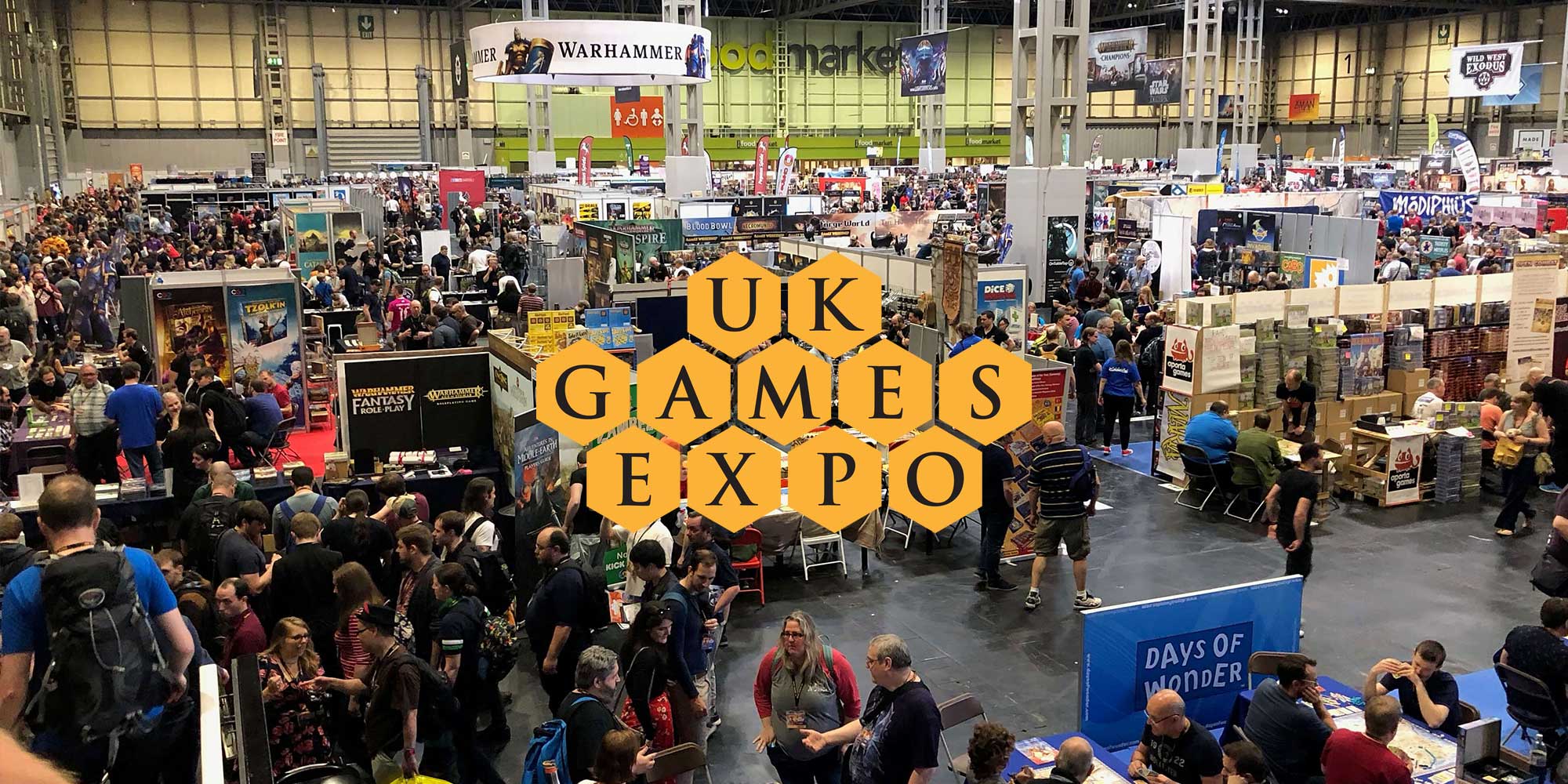 When is it? 3rd – 5th June 2022
Where is it? NEC Birmingham
Price: £46 – £110
Hosted by: UKGE
Buy tickets: https://www.ukgamesexpo.co.uk/shop/tickets/
The UK Games Expo – also held in the NEC – is another huge gaming expo in the UK. Tickets range from £46 to £110, which makes this event pretty accessible. And trust us, you shouldn't miss it.
What's on at UK Games Expo?
Family Fun
The Family Zone was designed to allow adults and their children spend some quality time together. There'll be oversized games where you can play with gigantic pieces, demonstrations, a chance to rep your school and even face painting.
Board Game Tournaments
Are you a boardgame lover at heart? Here, you'll have the chance to take part in some great boardgame tournaments such as the Happy Salmon Tournament or the Four Elements UK Nationals. Think you've got what it takes? Register now!
Roleplaying
Want to bring your favourite games character to life? At the UK Games Expo you'll be surrounded by your favourite characters from Vikings to anime characters – and it's all part of the fun. Cosplayers at UK Games Expo raise money for selected charities, so as well as having fun they're also making a difference.
Bring & Buying
Bring your old games and buy new ones! It's basically a clothes swap – but for games. Take with you your old card games, board games, roleplaying books, comics, action figures – anything to do with gaming – and exchange it for cash to buy something new. If you don't have anything to swap, it's fine! There'll be a chance to do some bargain hunting anyway.
Learning
At UK Games Expo, you'll have the chance to get your learning face on and attend some seminars with talks from leading industry figures and influencers, live recorded podcasts and Youtube videos and even some quizzes!
The UK Games Expo is the perfect family event – if your child is a game lover this is the place to go next May. If you're the gamer of the family – even better. There'll be a plethora of exhibitions and events to immerse yourself in at UKGE.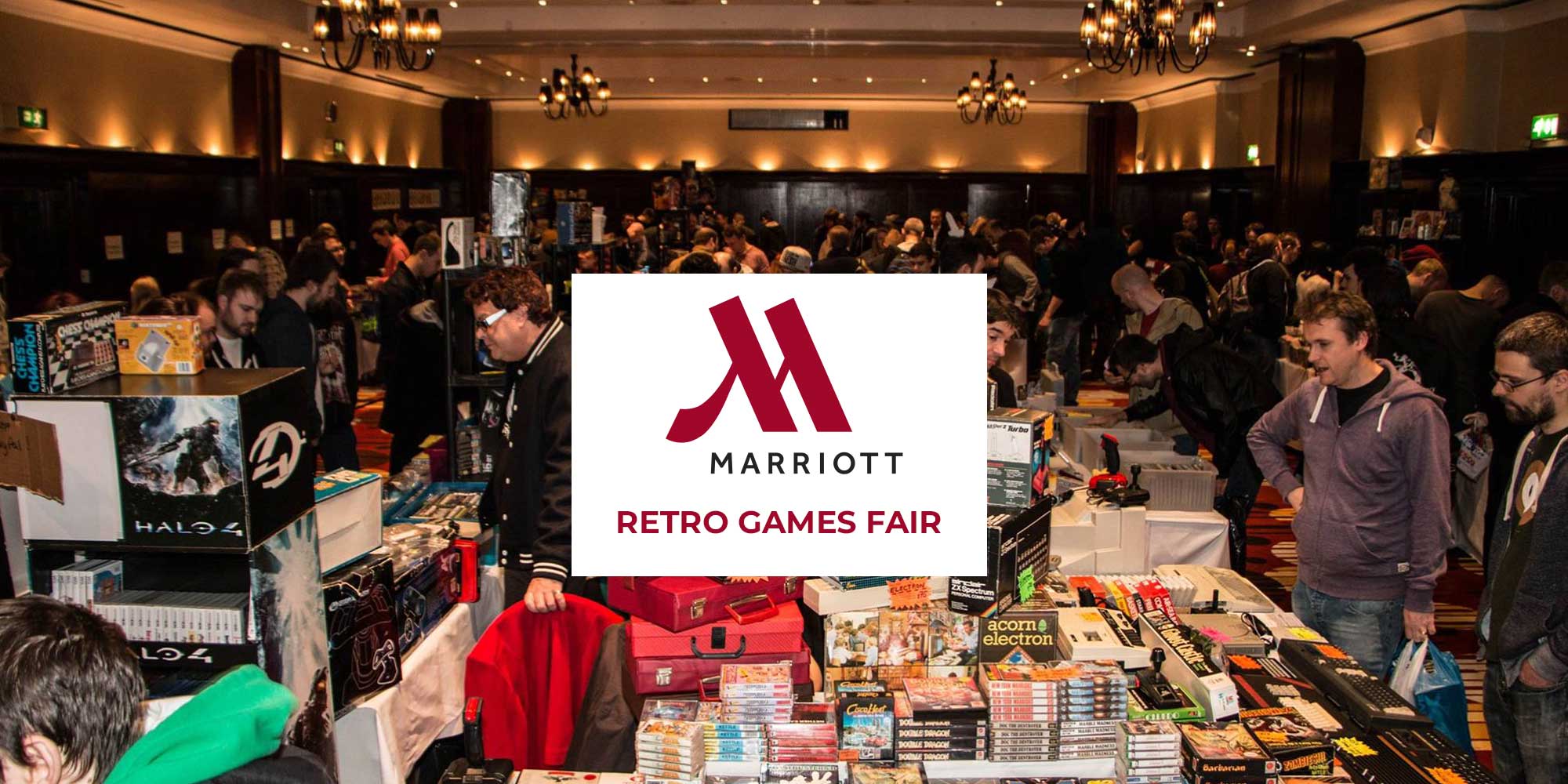 When is it? Sunday 5TH FEB 2022
Where is it? Leeds Marriott Hotel
Price: Free Entry
Hosted by: Retro Events Network
"If you love retro gaming, playing and collecting then this is the event for you", reads the first line of the Retro Games Fair's about page. Looking for a place to purchase all your gaming necessities? From video games, to micro-computers, to merchandise – The Retro Games Fair puts everything under one roof!
What's on at Retro Games Fair?
Shopping
Since this fair is predominantly for shopping, be prepared to make some impulse-buys or take part in some serious window shopping and wish list making. You'll be able to buy games, consoles, merch and loads of other cool gadgets.
Winning
For £2 you can enter into a draw to win some of the classic AND modern consoles that are out now. Talk about return on investment…
Playing
This wouldn't be a games fair without the chance to do what you do best. Head to the gaming zone to play some of the "best games ever made!"
The Retro Games Fair sounds like an arcade (or ex-arcade) lovers paradise. You'll be able to splash your cash on the things you've been wanting for ages – and there won't be any depending on delivery drivers or trailing from shop to shop. This is also a great place to meet other gamers, make some friends and get into some friendly competitions!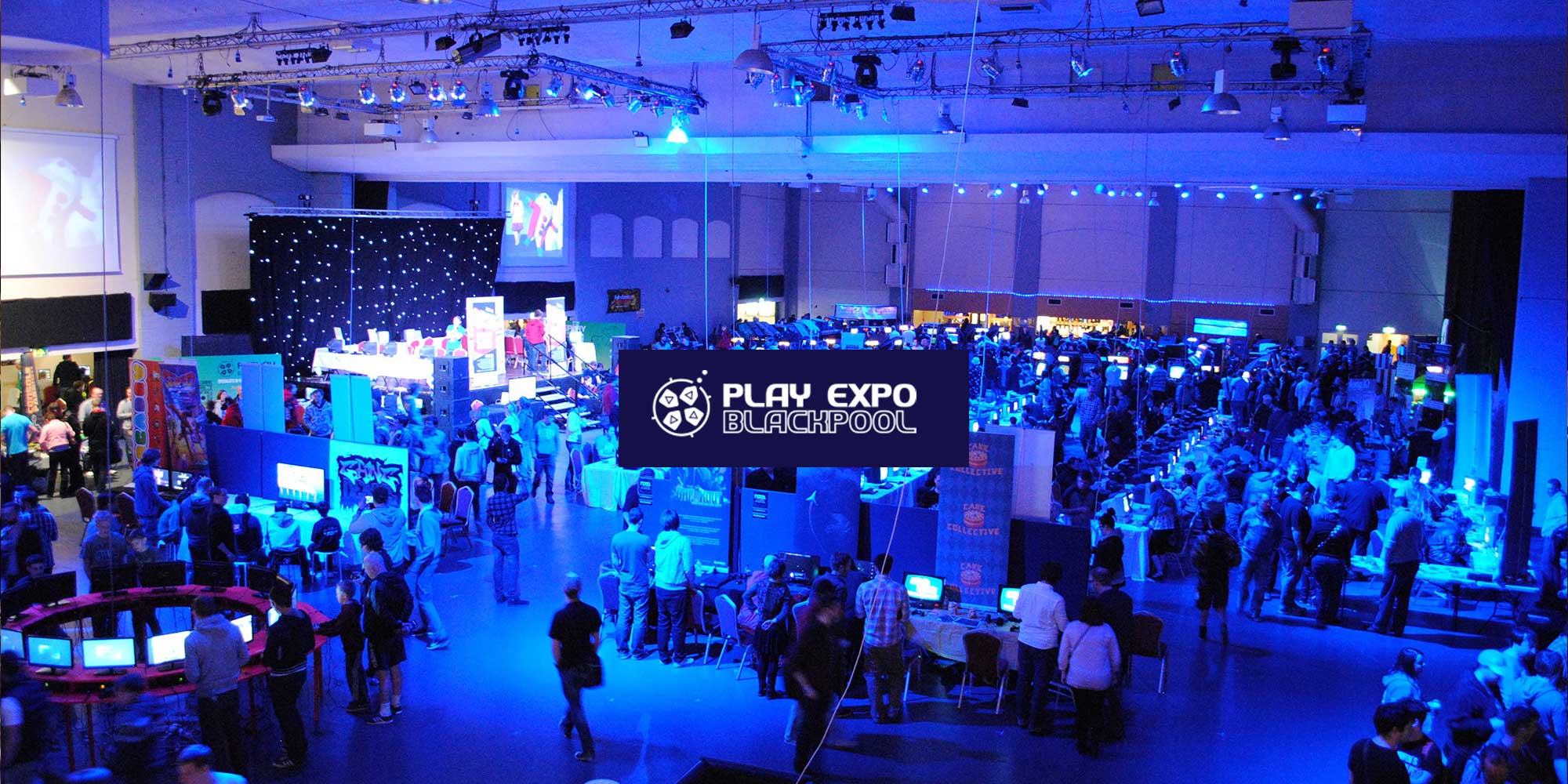 When is it? TBC
Where is it? Norbreck Castle Exhibition Centre, Blackpool
Price: TBC
Hosted by: Replay Events Ltd.
Play Expo Blackpool is "the biggest" Retro Gaming Expo, based in Blackpool, UK. Branded the most popular retro gaming expo in the UK, Play Expo will pay homage to the ghosts of gaming's past by cramming everything you love about gaming under one roof – gameplay, talks, tournaments and of course a few modern exhibitions.
What's on at Play Expo?
Indie Gaming
The indie zone is a place to play games that bend the rules. If you are looking to play some new, fun and quirky games, this is the spot. You'll be able to play some 4 player games like Rocket League and some indie classics such as Super Meat Boy. You'll be able to play alongside and meet some of the indie developers behind these great games and check out some unreleased games from local developers, too.
Rhythm Gaming
In the Rhythm Games Zone you'll be able to combine two great arts; music and gaming. Get together for some melodic playtime and get stuck into games such as DJ hero (Xbox 360) or Donkey Konga (Gamecube).
Retro Gaming
Of course, Play Expo specialise in retro games so expect a lot from their Retro Zone. They will be teaming with systems from Pong to PlayStation 3 to bring you the best of the best when it comes retro games. Do not miss the Arcade Cabs; with games like Mortal Kombat and House of the Dead – this is a serious blast to the past and you'll be definitely be feeling the nostalgia. Not to mention, there'll be Pinball machines!
With all this gaming fun (there'll be VR and tournaments, too} plus shopping, cosplay and some guest talks, Play Expo is a not-to-miss event! They all so have an event in Glasgow, with all the same fun!