Today marks the launch of
Star Wars: The Last Jedi, the
second in the long awaited and anticipated Trilogy from Disney. Having taken
her first steps into the Jedi world, Rey joins Luke Skywalker on an adventure
with Leia, Finn and Poe that unlocks mysteries of the Force and secrets of the
past.
A little know fact is that the original release date for
Star Wars: The Last Jedi was actually May 26, 2017. However, in January of
2016, the film's release was rescheduled for December 14, 2017, based on how
successful
Star Wars: The Force Awakens (2015) was releasing in December.
So on that note, what better day to tell you all about our
Star Wars arcade machine collection – the largest in Europe in fact!
Star Wars Arcade Machines
We specialise in all things retro and with over 300 machines
available to hire across our group stock, you'll never be disappointed. From
the original Star Wars Trilogy films we have a range of uprights, sit downs and
pinballs, along with rare machines such as the Star Wars Pod Racer,
Star Wars Episode One Pinball Machine and extremely rare (and large!) Fighter and Gunner.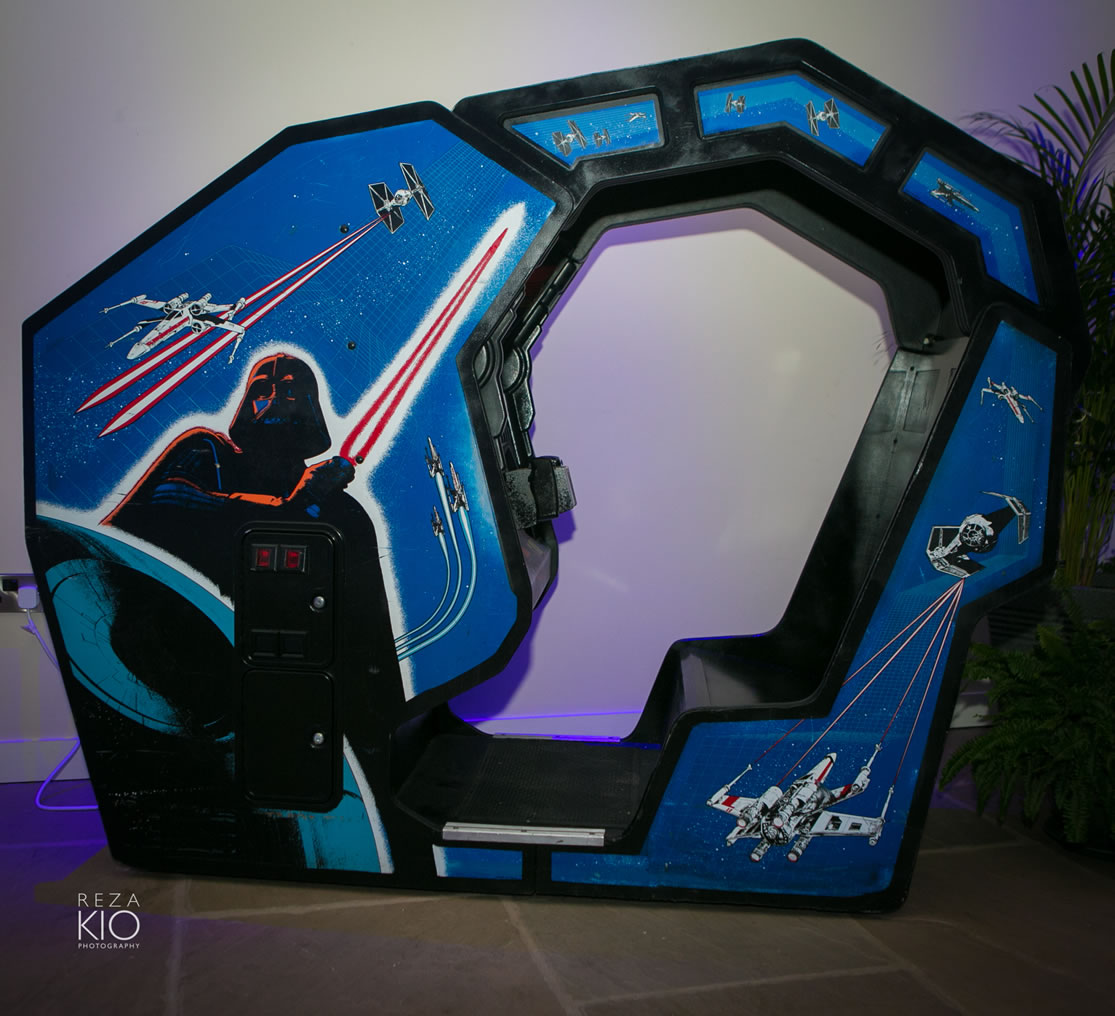 One of our rarest and most popular pieces in stock is our
Star Wars X-Wing cockpit arcade machine. Built by Atari and released back in 1983, you assume the
role of Luke Skywalker as you pilot an X-wing fighter from a first-person
perspective. Blasting away TIE Fighters you zoom across the surface of the
Death Star and roar down the trench.
Unlike other arcade games of a similar nature, you don't
have to destroy every enemy in order to advance through the game; you must
simply survive as your fighter flies through each level. This often means you
must avoid or destroy the shots that enemies fire at you. Each hit on your
craft takes away one shield (you start with six), and if you run out of shields
and take another hit, the game ends.
This is the classic colour vector arcade game, but unlike
the original, this machine features our three in one system to allow you to
play not just Star Wars X-Wing but also the sequels
Empire Strikes Back and
Return of the Jedi.
Partnering up with event agencies like Passion4Events we
have supported a number of fully themed
Star Wars parties, perfect for the
ultimate sci-fi fan!
We also provided a full gaming arcade for George Lucas and
Lucas Arts at the very first Celebration Europe in London back in 2007. This
was the first time Lucas Arts had hosted a Celebration outside of the US along
with officially working with the Belgian prop builders and their incredible,
movie-real props to provide a show-stopping event. Celebration saw the likes of
actors Jeremy Bulloch (Boba Fett), Kenny Baker (R2D2) and Dave Prowse (Darth Vader)
all of which have played on and
signed our machines over the years. The event
also saw visitor activities such as the Padawan Jedi training in the "jungle"
of Dagobah.
Our retro
Star Wars arcade machines are available for hire
for events across Europe from as little as £295.00, so whether you simply want
the one cabinet or a full Star Wars arcade, we'll be happy to help!